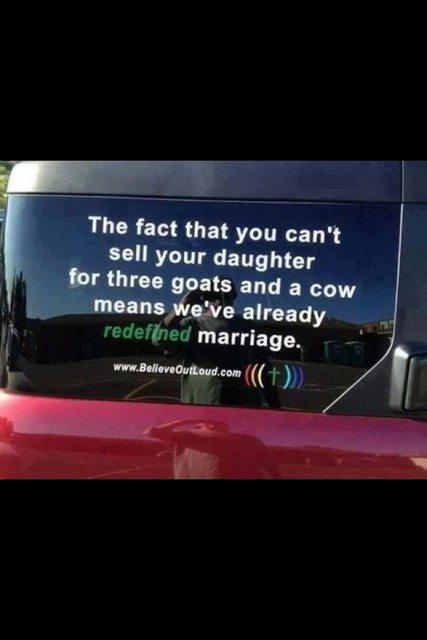 Here is a celebrity lesbian wedding that did not work out so well. Usually I just except the ridiculous parts, but here I post the story in its entirety.
AP/NYTimes
reports
:
OKLAHOMA CITY — Brittney Griner filed for an annulment with Glory Johnson-Griner on Friday, a day after Johnson-Griner announced she's pregnant and a month after the two WNBA players married.

"Last Wednesday, Glory and I agreed to either legally separate, get divorced, or annul our marriage, Griner said in a statement. "I can confirm that today I filed for an annulment. In the week prior to the wedding, I attempted to postpone the wedding several times until I completed counseling, but I still went through with it. I now realize that was a mistake."

Johnson-Griner's sports marketing agent, D.J. Fisher, said in a statement that Johnson-Griner was unaware that Griner was filing and was "extremely hurt and blindsided."

"She loves Brittney and made a huge sacrifice to carry a child, put her career on hold, invest in their relationship and their future," Fisher said.

Griner, the 6-foot-8 Phoenix Mercury star, married Johnson-Griner on May 9, three weeks after they were arrested on domestic violence charges for a fight at their home in suburban Phoenix. Both players were suspended seven games after their arrests and Griner agreed to undergo 26 weeks of domestic violence counseling as part of a plea agreement.

Both players apologized and said they worked out their differences, saying they were happy about the marriage. Johnson-Griner, a two-time All-Star with the Tulsa Shock, announced on Instagram on Thursday that she was pregnant and would miss the WNBA season.

Fisher said Johnson-Griner was in it for the long haul.

"She knows how important marriage is, and made a lifetime commitment and decision to spend the rest of her life with Brittney," Fisher said.

Earlier Friday, a post on Johnson-Griner's Instagram account showed a photo of Griner and a message about seeing her again: "One day until I'm reunited with my Wife @brittneygriner ... This is about to be one CRAZY SUMMER!!!"

Her tune changed later in the day.

"She wishes to ask for privacy at this time as they work through these trials and tribulations," Fisher said. "She asks her fans for all their love, support and prayers during this trying time."

Johnson-Griner's player agent, Boris Lelchitski, said the Women's National Basketball Players Association was planning to file a grievance to appeal the suspensions for both players, but Griner backed out at the last second. Lelchitski said the deadline has now passed, and his client did not appeal.

"With what has happened lately, Glory has a lot more on her plate to worry about," Lelchitski wrote in a text message.

Johnson-Griner's suspension will not start until the 2016 season because she will not play this season.

Griner was the WNBA's defensive player of the year and helped the Mercury win the league championship last season.

The WNBA season started Friday night.
There are many things wrong here. How does a woman get to be 6-foot-8? Is she really a woman and is this really a sport?
Getting pregnant a month after the wedding is usually a cause for celebration. But not when the husband is a 6-foot-8 lesbian, I guess.
Not all domestic violence is the fault of men.
You used to be able to get an annulment if the marriage was never consummated. But what if the parties are physically incapable of consummating?
Usually marriage law provides for the husband being the presumed father. But who's the daddy here?
Someone should send this story to the US Supreme Court.
Yes, marriage has been redefined a couple of times. It was redefined when polygamy was outlawed, whenever that was. It was redefined by no-fault-divorce, by BIOTCh, and by formula child support. Also by abolishing penalties for adultery and illegitimacy. Now it is being redefined by pregnant pro basketball fighting lesbians, and maybe by whatever Bruce Call-Me-Caitly Jenner decides to marry next. He is essentially a neutered male, and I am guessing he will marry a neutered female.
I just wonder how far this is all going. I heard someone say that our society is on the brink of giving everyone dignity. I do not see it that way. Indulging mental illness is not giving dignity. I expect to be forced to accept wackier and wackier practices, while normal people are marginalized.