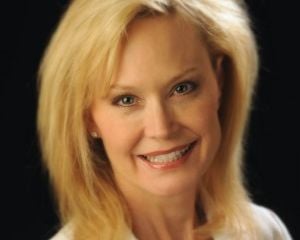 Here is a
St. Louis arrest
:
A high-ranking physician at St. Luke's Hospital has been charged with two counts of felony child abuse/neglect and one count of misdemeanor assault, authorities said.

Dr. Carrie C. Morrison, 53, was charged Wednesday with the offenses that stem from an incident Sept. 21 at Morrison's home in the 17000 block of Sugarberry Court, Chesterfield police Lt. Michael Thompson said.

The incident involved Morrison and her daughter, a teenager under 18, Thompson said.

Thompson said the daughter alleges that Morrison pushed her down steps, and shoved her into a wall and a metal table at their Chesterfield home.

Morrison is director of breast imaging and mammography at St. Luke's, also located in Chesterfield. She has no discipline record with the state medical board.

Hospital officials, Morrison and her attorney all were unavailable for comment. She is free on $5,000 bond and set to appear Dec. 2 in St. Louis County circuit court.
The comments are skeptical:
It's really sad that we cannot discipline our children without getting charged with child abuse!

Nathan E Wolins I do NOT believe she wanted to harm her daughter... Like I said the teen probably pulled away from her and lost her balance and fell back .... then tumbled down the steps thinking her mom pushed her....

Of course it could be made up. I've never heard of a respected professional losing their temper, have you? Then again, it may not. Authorities will decide. Why is everyone jumping to the mom's defense. Most parents I've seen are.....not competent.

I'm quite sure all these allegations are not true and I bet with out a doubt that teenager is and has been acting out of control

Dr. Morrison is an outstanding, compassionate physician, and I am certain she will handle this difficult situation with the grace for which for she is well-known by her colleagues.

I'd send the teenager away.... Boarding school

She looks guilty

LOL...How embarrassing.

I'm gonna go with impossibly hot theory.

Be reasonable folks why would a prominent physician, well respected never had any other arrests or problems with the law suddenly get a child abuse charge. I think the "child" is using the new laws to create trouble.

This is news why? Is it because the woman charged is a prominent physician thus a respected member of the community, or is it because she's impossibly hot and you wanted a photo of her to draw clicks and views? I'm just plain not impressed that the PD chose to publish this as if it is any of their or anyone else's business. This is a private family affair at this point, ...

I don't believe this story... The kid could have slipped or pulled away from her mother when she slipped and fell... I don't buy this crap.. When a teen is in a argument with a parent they pull away and back up when your mad and coming towards them... Teen's are ridiculous and want attention..

The Post Disgrace does it again. $10 says the kid got drunk, fell down the stairs and bonked her head, then felt the need to make up a story to cover it up. She will likely soon find out just how irresponsible her actions were. The PD has zero business pre-judging and printing articles like this.

What - news is not, you know, news?
The P-D did not pre-judge. WAIT - you knew that and yet...

The Paper post's these stories when they do NOT have all the facts...
They post what the police tell them..

Thug

That teen can kiss her designer jeans and that state of the art cell phone goodbye! And maybe that car her mother provides for her, also!

Are we sure its not a disgruntled teen making up stories. I wouldn't judge her too fast.

Claims? Perhaps you should have waiting until something concrete like evidence shows up before you start sniping at the Doctor.

Adrian Peterson just called, he wants his rod back.
I don't know about this. I would not say that she is innocent just because she is a good looking woman with a respectable job taking pictures of women's breasts all day. But it seems likely that the bratty kid was misbehaving, with no need for police intervention.